Vincent Bugliosi
American attorney
Died when: 80 years 292 days (969 months)
Star Sign: Leo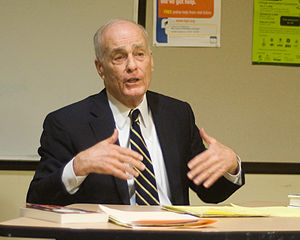 Vincent T.Bugliosi Jr. (;August 18, 1934 – June 6, 2015) was an American attorney and New York Times bestselling author.During his eight years in the Los Angeles County District Attorney's Office, he successfully prosecuted 105 out of 106 felony jury trials, which included 21 murder convictions.

He was best known for prosecuting Charles Manson and other defendants accused of the Tate–LaBianca murders of August 9–10, 1969.

In 1972 Bugliosi left the District Attorney's (DA) office and started a private practice, which included defense cases for criminal trials.

He twice ran for the DA's office, but was not elected.He also began his writing career, exploring notable criminal cases.

Bugliosi, with Curt Gentry, wrote the book Helter Skelter (1974), about the investigation, arrest, and prosecution of Charles Manson and the Manson Family.

It won an Edgar Award and has ranked as the bestselling crime book in US history.He has written several other books, mostly dealing with well-known crimes.

His works include And the Sea Will Tell (1991), which he wrote with Bruce Henderson about the murder case against Stephanie Stearns.

It was a #1 New York Times bestselling book.He later wrote Reclaiming History: The Assassination of President John F.Kennedy (2007), in which he challenged numerous conspiracy theories and explored the events surrounding the assassination.

He also wrote The Prosecution of George W.Bush for Murder (2008), a condemnation of former president George W.Bush's decision to invade Iraq.


---