Warren Spahn
American baseball player and coach
Died when: 82 years 215 days (991 months)
Star Sign: Taurus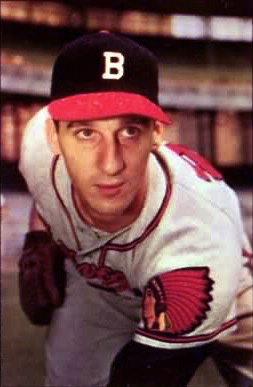 Warren Edward Spahn (April 23, 1921 – November 24, 2003) was an American professional baseball player.He played in Major League Baseball as a left-handed pitcher in 1942 and then from 1946 until 1965, most notably for the Boston Braves, who became the Milwaukee Braves after the team moved west before the 1953 season.

His baseball career was interrupted by his military service in the United States Army during the Second World War.Born and raised in Buffalo, New York, Spahn attended South Park High School.

With 363 victories over the span of his 21-year baseball playing career, Spahn holds the major league record for most career wins by a left-handed pitcher, and the most by a pitcher who played his entire career in the post-1920 live-ball era.

He was a 17-time All-Star player who won 20 games or more in 13 seasons, including a 23–7 record when he was age 42.

Spahn won the 1957 Cy Young Award and was a three-time runner-up during the period when only one award was given for both leagues.

At the time of his retirement in 1965, Spahn held the Major League Baseball record for career strikeouts by a left-handed pitcher.

He was elected to the Baseball Hall of Fame in his first year of eligibility in 1973 with 82.89% of the vote.

The Warren Spahn Award, given annually to the major leagues' best left-handed pitcher, is named in his honor.Regarded as a "thinking man's" pitcher who liked to outwit batters, Spahn once described his approach on the mound: "Hitting is timing.

Pitching is upsetting timing."


---