Eugene Cernan
American astronaut
Died when: 82 years 308 days (994 months)
Star Sign: Pisces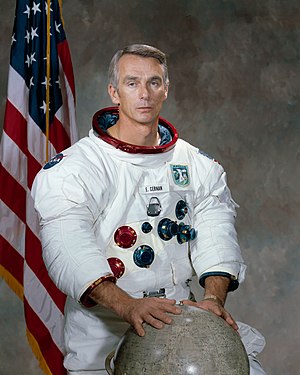 Eugene Andrew Cernan (/ˈsɜːrnən/;March 14, 1934 – January 16, 2017) was an American astronaut, naval aviator, electrical engineer, aeronautical engineer, and fighter pilot.

During the Apollo 17 mission, Cernan became the eleventh human being to walk on the Moon.As he re-entered the Apollo Lunar Module after Harrison Schmitt on their third and final lunar excursion, he remains as of 2022, famously: "The last man on the Moon".

Before becoming an astronaut, Cernan graduated with a Bachelor of Science degree in electrical engineering from Purdue University and joined the U.S.

Navy through the Naval Reserve Officers Training Corps (NROTC).After flight training, he received his naval aviator wings and served as a fighter pilot.

In 1963, he received a Master of Science degree in aeronautical engineering from the U.S.Naval Postgraduate School.Achieving the rank of captain, he retired from the Navy in 1976.

Cernan traveled into space three times and to the Moon twice: as pilot of Gemini 9A in June 1966, as lunar module pilot of Apollo 10 in May 1969, and as commander of Apollo 17 in December 1972, the final Apollo lunar landing.

Cernan was also a backup crew member of the Gemini 12, Apollo 7 and Apollo 14 space missions.


---