J. Edgar Hoover
FBI director
Died when: 77 years 122 days (928 months)
Star Sign: Capricorn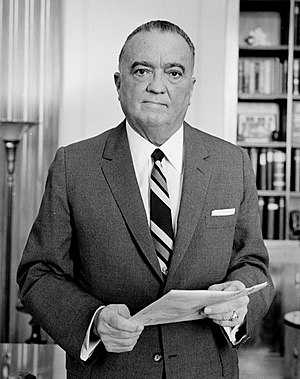 John Edgar Hoover (January 1, 1895 – May 2, 1972) was an American law enforcement administrator who served as the first Director of the Federal Bureau of Investigation (FBI) of the United States.

He was appointed director of the Bureau of Investigation – the FBI's predecessor – in 1924 and was instrumental in founding the FBI in 1935, where he remained director for another 37 years until his death in 1972 at the age of 77.

Hoover has been credited with building the FBI into a larger crime-fighting agency than it was at its inception and with instituting a number of modernizations to police technology, such as a centralized fingerprint file and forensic laboratories.

Hoover is also credited with establishing and expanding a national blacklist, referred to as the FBI Index or Index List, renamed in 2001 as the Terrorist Screening Database which the FBI still compiles and manages.

Later in life and after his death, Hoover became a controversial figure as evidence of his secretive abuses of power began to surface.

He was found to have exceeded the jurisdiction of the FBI, and to have used the FBI to harass political dissenters and activists, to amass secret files on political leaders, and to collect evidence using illegal methods.

Hoover consequently amassed a great deal of power and was in a position to intimidate and threaten others, including multiple sitting presidents of the United States.


---