Stand Watie
Confederate States Army general
Died when: 64 years 271 days (776 months)
Star Sign: Sagittarius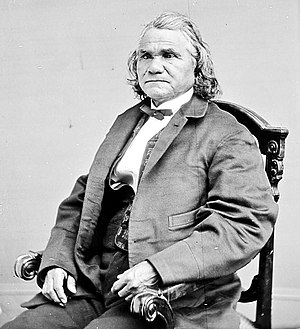 Brigadier-General Stand Watie (Cherokee: ᏕᎦᏔᎦ, romanized: Degataga, lit. 'Stand firm';December 12, 1806 – September 9, 1871), also known as Standhope Uwatie, Tawkertawker, and Isaac S.

Watie, was a Cherokee politician who served as the second principal chief of the Cherokee Nation from 1862 to 1866.The nation allied with the Confederate States during the American Civil War and he was the only Native American Confederate general officer of the war.

Watie commanded Indian forces in the Trans-Mississippi Theater, made up mostly of Cherokee, Muskogee, and Seminole.He was the last Confederate States Army general to surrender.

Before removal of the Cherokee to Indian Territory in the late 1830s, Watie and his older brother Elias Boudinot were among Cherokee leaders who signed the Treaty of New Echota in 1835.

The majority of the tribe opposed their action.In 1839, the brothers were attacked in an assassination attempt, as were other relatives active in the Treaty Party.

All but Stand Watie were killed.Watie in 1842 killed one of his uncle's attackers, and in 1845 his brother Thomas was killed in retaliation, in a continuing cycle of violence that reached Indian Territory.

Watie was acquitted by the Cherokee at trial in the 1850s on the grounds of self-defense.Watie led the Southern Cherokee delegation to Washington, D.C., after the American Civil War to sue for peace, hoping to have tribal divisions recognized.

The federal government negotiated only with the leaders who had sided with the Union.Watie stayed out of politics for his last years, and tried to rebuild his plantation.


---