Wilt Chamberlain
Basketball player
Died when: 63 years 52 days (757 months)
Star Sign: Virgo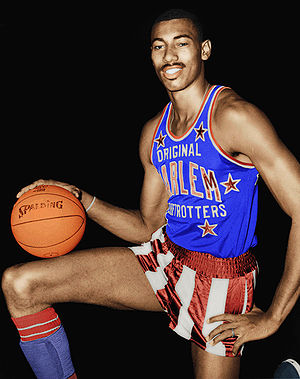 Wilton Norman Chamberlain (/ˈtʃeɪmbərlɪn/;August 21, 1936 – October 12, 1999) was an American professional basketball player who played as a center.

Standing at 7 ft 1 in (2.16 m) tall, he played in the National Basketball Association (NBA) for 14 years and is widely regarded as one of the greatest players in the sport's history.

Several publications have argued that Chamberlain is the greatest NBA player of all time.He holds numerous NBA regular season records in scoring, rebounding, and durability categories; most notably he is the only player to score 100 points in a single NBA game, and average more than 40 and 50 points in a season.

Further records that Chamberlain achieved include being the only player in NBA history to average at least 30 points and 20 rebounds per game in a season, a feat he accomplished seven times, and the only player to reach this milestone over the entire course of his NBA career.

Chamberlain played for the Kansas Jayhawks and the Harlem Globetrotters before joining the NBA, where he played for the Philadelphia / San Francisco Warriors, the Philadelphia 76ers, and the Los Angeles Lakers.

During his time in the NBA, Chamberlain enjoyed an on-court rivalry with Boston Celtics' Bill Russell.Although Chamberlain suffered a long string of NBA Finals losses during his career, he had a successful career, winning two NBA championships, earning four regular-season NBA Most Valuable Player (MVP) awards, the NBA Rookie of the Year award, one NBA Finals MVP award, and one NBA All-Star Game MVP award, and he was selected to thirteen NBA All-Star Games and ten All-NBA Teams (seven First and three Second teams).

He won seven scoring, eleven rebounding, nine durability, and nine field goal percentage titles, and he led the league in assists once.

He was enshrined in the Naismith Memorial Basketball Hall of Fame in 1978, elected into the NBA 35th Anniversary Team in 1980, chosen as one of the 50 Greatest Players in NBA History in 1996, and in 2021 was named to the NBA 75th Anniversary Team.

Chamberlain was known by several nicknames during his basketball playing career.He disliked the ones that called attention to his height, such as "Goliath" and "Wilt the Stilt".

A Philadelphia sportswriter coined the nicknames during Chamberlain's high school days.He preferred "The Big Dipper", which was inspired by his friends who saw him dip his head as he walked through doorways.

After his professional basketball career ended, Chamberlain played volleyball in the short-lived International Volleyball Association (IVA), was president of the IVA, and is enshrined in the IVA Hall of Fame for his contributions.

He was a successful businessman, authored several books, and appeared in the 1984 movie Conan the Destroyer.Chamberlain was also a lifelong bachelor and became notorious for his statement of having had sexual relations with as many as 20,000 women.


---