Y. A. Tittle
American football quarterback
Died when: 90 years 349 days (1091 months)
Star Sign: Scorpio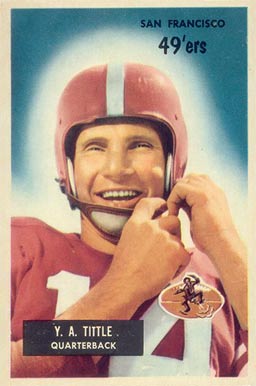 Yelberton Abraham Tittle Jr. (October 24, 1926 – October 8, 2017) was a professional American football quarterback.He played in the National Football League (NFL) for the San Francisco 49ers, New York Giants, and Baltimore Colts, after spending two seasons with the Colts in the All-America Football Conference (AAFC).

Known for his competitiveness, leadership, and striking profile, Tittle was the centerpiece of several prolific offenses throughout his 17-year professional career from 1948 to 1964.

Tittle played college football for Louisiana State University, where he was a two-time All-Southeastern Conference (SEC) quarterback for the LSU Tigers football team.

As a junior, he was named the most valuable player (MVP) of the infamous 1947 Cotton Bowl Classic—also known as the "Ice Bowl"—a scoreless tie between the Tigers and Arkansas Razorbacks in a snowstorm.

After college, he was drafted in the 1947 NFL Draft by the Detroit Lions, but he instead chose to play in the AAFC for the Colts.

With the Colts, Tittle was named the AAFC Rookie of the Year in 1948 after leading the team to the AAFC playoffs.

After consecutive one-win seasons, the Colts franchise folded, which allowed Tittle to be drafted in the 1951 NFL Draft by the 49ers.

Through ten seasons in San Francisco, he was invited to four Pro Bowls, led the league in touchdown passes in 1955, and was named the NFL Player of the Year by the United Press in 1957.

A groundbreaker, Tittle was part of the 49ers' famed Million Dollar Backfield, was the first professional football player featured on the cover of Sports Illustrated, and is credited with having coined "alley-oop" as a sports term.

Considered washed-up, the 34-year-old Tittle was traded to the Giants following the 1960 season.Over the next four seasons, he won several individual awards, twice set the league single-season record for touchdown passes – including a 1962 game with a combined 7 touchdown passes and 500-yards passing with a near perfect (151.4 out of 158.33) passer rating, and led the Giants to three straight NFL championship games.

Although he was never able to deliver a championship to the team, Tittle's time in New York is regarded among the glory years of the franchise.

In his final season, Tittle was photographed bloodied and kneeling down in the end zone after a tackle by a defender left him helmetless. is considered one of the most iconic images in North American sports history.

He retired as the NFL's all-time leader in passing yards, passing touchdowns, attempts, completions, and games played.Tittle was inducted into the Pro Football Hall of Fame in 1971, and his jersey number 14 is retired by the Giants.


---