Yuri Andropov
Soviet leader
Died when: 69 years 239 days (835 months)
Star Sign: Gemini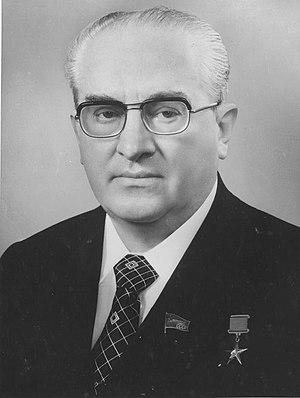 Yuri Vladimirovich Andropov (;Russian: Юрий Владимирович Андропов, tr.

Yuriy Vladimirovich Andropov, IPA: [ˈjʉrʲɪj vlɐˈdʲimʲɪrəvʲɪtɕ ɐnˈdropəf]; 15 June [O.S. 2 June] 1914 – 9 February 1984) was the sixth paramount leader of the Soviet Union and the fourth General Secretary of the Communist Party of the Soviet Union.

Following the 18-year rule of Leonid Brezhnev, Andropov served in the post from November 1982 until his death in February 1984.Earlier in his career, Andropov served as the Soviet ambassador to Hungary from 1954 to 1957, during which time he was involved in the suppression of the 1956 Hungarian Uprising.

He was named Chairman of the KGB on 10 May 1967.In this position, he oversaw a massive crackdown on dissent carried out via mass arrests and the involuntary psychiatric commitment of people deemed "socially undesirable".

After Brezhnev suffered a stroke in 1975 impairing his ability to govern, Andropov effectively dictated Soviet policymaking alongside Foreign Minister Andrei Gromyko and Defense Ministers Andrei Grechko (1967—1976) and Dmitry Ustinov (1976—1983) for the rest of Brezhnev's rule.

Upon Brezhnev's death on 10 November 1982, Yuri Andropov succeeded him as General Secretary and (by extension) leader of the Soviet Union.

During his short tenure, Andropov sought to eliminate corruption and inefficiency within the Soviet system by investigating longtime officials for violations of party discipline and criminalizing truancy in the workplace.

The Cold War intensified, and he was at a loss for how to handle the growing crisis in the Soviet economy.

His major long-term impact was bringing to the fore a new generation of young reformers, as energetic as himself, including Yegor Ligachyov, Nikolai Ryzhkov, and, most importantly, Mikhail Gorbachev.

However, upon suffering kidney failure in February 1983, Andropov's health began to deteriorate rapidly.On 9 February 1984, he died after leading the country for only about 15 months.


---