Al Hurricane
American singer-songwriter
Died when: 81 years 104 days (975 months)
Star Sign: Cancer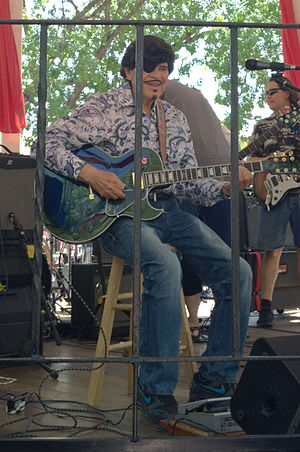 Alberto Nelson Sanchez (July 10, 1936 – October 22, 2017), known professionally as Al Hurricane, was an American singer-songwriter, dubbed "The Godfather" of New Mexico music.

He released more than thirty albums, and is best known for his contributions to New Mexico's unique style of Spanish music.

He received his nickname, Hurricane, from his mother.As a child, he would accidentally knock things over; the nickname became synonymous with his band, studio, and a recording label.

His signature look, which included an eye-patch, was due to an automobile accident that occurred during the 1960s.These things, as well as his performance style, led to Hurricane being known for his ability to improvise and adapt.

They have also led to his music and image being ultimately entangled with the history of New Mexico music.Al Hurricane was often accompanied on stage by his children, sons Al Hurricane, Jr. and Jerry Dean, and daughter Erika.

He also performed frequently with his brothers Baby Gaby and Tiny Morrie.He was the subject of a tribute concert which was recorded as a set of two tribute albums, as well a DVD.

He has also performed alongside Fats Domino, Marvin Gaye, Chuck Berry, Jimmy Clanton, and Chubby Checker.


---