Buck O'Neil
Baseball player/manager
Died when: 94 years 327 days (1138 months)
Star Sign: Scorpio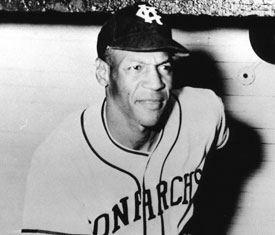 John Jordan "Buck" O'Neil Jr. (November 13, 1911 – October 6, 2006) was a first baseman and manager in the Negro American League, mostly with the Kansas City Monarchs.

After his playing days, he worked as a scout and became the first African American coach in Major League Baseball.

In his later years he became a popular and renowned speaker and interview subject, helping to renew widespread interest in the Negro leagues, and played a major role in establishing the Negro Leagues Baseball Museum in Kansas City, Missouri.

O'Neil's life was documented in Joe Posnanski's award-winning 2007 book The Soul of Baseball.


---