Alan Bean
NASA astronaut
Died when: 86 years 72 days (1034 months)
Star Sign: Pisces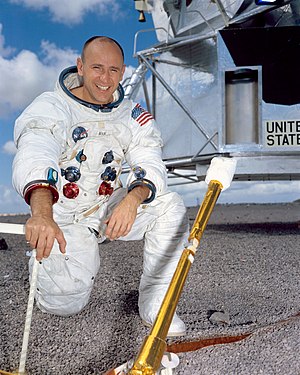 Alan LaVern Bean (March 15, 1932 – May 26, 2018) was an American naval officer and aviator, aeronautical engineer, test pilot, NASA astronaut and painter; he was the fourth person to walk on the Moon.

He was selected to become an astronaut by NASA in 1963 as part of Astronaut Group 3.Before becoming an astronaut, Bean graduated with a Bachelor of Science degree in Aeronautical Engineering from University of Texas at Austin in 1955 and re-joined the U.S.

Navy—he served as an enlisted member for a year after his high school graduation.He received his naval aviator wings in 1956 and served as a fighter pilot.

In 1960, he graduated from the U.S.Naval Test Pilot School, flew as a test pilot and was The New Nine selection finalist in 1962.

He made his first flight into space aboard Apollo 12, the second crewed mission to land on the Moon, at age 37 in November 1969.

He made his second and final flight into space on the Skylab 3 mission in 1973, the second crewed mission to the Skylab space station.

After retiring from the United States Navy in 1975 and NASA in 1981, he pursued his interest in painting, depicting various space-related scenes and documenting his own experiences in space as well as those of his fellow Apollo program astronauts.

He was the last living crew member of Apollo 12.


---