Alan Davidson
Australian cricketer
Died when: 92 years 138 days (1108 months)
Star Sign: Gemini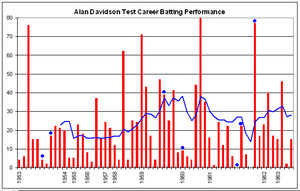 Alan Keith Davidson AM MBE (14 June 1929 – 30 October 2021) was an Australian cricketer of the 1950s and 1960s.He was an all rounder: a hard-hitting lower-order left-handed batsman, and an outstanding left-arm fast-medium opening bowler.

Strongly built and standing six feet tall, Davidson was known for his hard hitting power, which yielded many long hit sixes.

His left arm bowling was a mainstay of the Australian pace attack of the 1950s and early 1960s, and from the late 1950s he was widely regarded as one of the finest pace bowlers in the world.

Davidson's classical bowling action imparted late swing, allowing him to move the ball to deceive batsmen and he bowled with great control, conceding fewer than two runs per over across his career.

In 2006, writer Geoff Armstrong considered that Davidson was, along with Wasim Akram, one of the two greatest left-arm fast bowlers in history.

Davidson was also known for his anticipation in close catching positions and his accurate and strong throwing arm from the outfield; his ability to take improbable close range catches saw him earn the nickname "The Claw".

He was the first player to obtain the distinction of achieving the double of getting ten wickets and scoring a century in the same match.


---