Ginger Rogers
American actress
Died when: 83 years 283 days (1005 months)
Star Sign: Cancer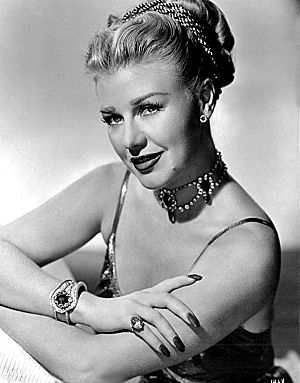 Ginger Rogers (born Virginia Katherine McMath;July 16, 1911 – April 25, 1995) was an American actress, dancer and singer during the Golden Age of Hollywood.

She won an Academy Award for Best Actress for her starring role in Kitty Foyle (1940), and performed during the 1930s in RKO's musical films with Fred Astaire.

Her career continued on stage, radio and television throughout much of the 20th century.Rogers was born in Independence, Missouri, and raised in Kansas City.

She and her family moved to Fort Worth, Texas, when she was nine years old.In 1925, she won a Charleston dance contest that helped her launch a successful vaudeville career.

After that, she gained recognition as a Broadway actress for her stage debut in Girl Crazy.This led to a contract with Paramount Pictures, which ended after five films.

Rogers had her first successful film roles as a supporting actress in 42nd Street (1933) and Gold Diggers of 1933 (1933).In the 1930s, Rogers's nine films with Fred Astaire are credited with revolutionizing the genre and gave RKO Pictures some of its biggest successes: The Gay Divorcee (1934), Top Hat (1935) and Swing Time (1936).

But after two commercial failures with Astaire, she turned her focus to dramatic and comedy films.Her acting was well received by critics and audiences in films such as Stage Door (1937), Vivacious Lady (1938), Bachelor Mother (1939), Primrose Path (1940), The Major and the Minor (1942) and I'll Be Seeing You (1944).

After winning the Oscar, Rogers became one of the biggest box-office draws and highest-paid actresses of the 1940s.Rogers's popularity was peaking by the end of the decade.

She reunited with Astaire in 1949 in the commercially successful The Barkleys of Broadway.She starred in the successful comedy Monkey Business (1952) and was critically lauded for her performance in Tight Spot (1955) before entering an unsuccessful period of filmmaking in the mid-1950s, and returned to Broadway in 1965, playing the lead role in Hello, Dolly!

More Broadway roles followed, along with her stage directorial debut in 1985 of an off-Broadway production of Babes in Arms.She continued to act, making television appearances until 1987, and wrote an autobiography Ginger: My Story which was published in 1991.

In 1992, Rogers was recognized at the Kennedy Center Honors.She died of natural causes in 1995, at age 83.During her long career, Rogers made 73 films, and she ranks number 14 on the AFI's 100 Years...100 Stars list of female stars of classic American cinema.


---