Moses Malone
American basketball player
Died when: 60 years 174 days (725 months)
Star Sign: Aries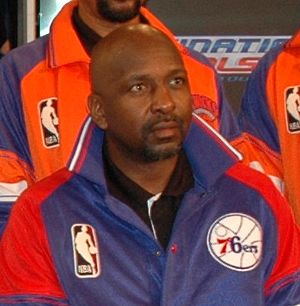 Moses Eugene Malone (March 23, 1955 – September 13, 2015) was an American basketball player who played in both the American Basketball Association (ABA) and the National Basketball Association (NBA) from 1974 through 1995.

A center, he was named the NBA Most Valuable Player (MVP) three times, was a 12-time NBA All-Star and an eight-time All-NBA Team selection.

Malone led the Philadelphia 76ers to an NBA championship in 1983, winning both the league and Finals MVP.He was inducted into the Naismith Memorial Basketball Hall of Fame in his first year of eligibility in 2001.

Malone began his professional career out of high school after he was selected in the third round of the 1974 ABA Draft by the Utah Stars.

He was named an ABA All-Star as a rookie and played two seasons in the league until it merged with the NBA in 1976.

He landed in the NBA with the Buffalo Braves, who traded him after two games to the Houston Rockets.Malone became a five-time All-Star in six seasons with the Rockets.

After leading the NBA in rebounding in 1979, he was named league MVP for the first time.He led the Rockets to the NBA Finals in 1981, and won his second MVP award in 1982.

Traded to Philadelphia the following season, he repeated as MVP and led the 76ers to the 1983 championship.In his first of two stints with Philadelphia, he was an All-Star in each of his four seasons.

Following another trade, Malone was an All-Star in his only two seasons with the then Washington Bullets (today's Wizards).He signed as a free agent with the Atlanta Hawks, earning his 12th straight and final NBA All-Star selection in his first season.

In his later years, he played with the Milwaukee Bucks before returning to the 76ers and completing his career with the San Antonio Spurs.

Malone was a tireless and physical player who led the NBA in rebounding six times, including a then-record five straight seasons (1981–1985).

Nicknamed the "Chairman of the Boards" for his rebounding prowess,}} Malone attended Petersburg High School, where he played basketball for the school's Crimson Wave.

The team went undefeated in his final two years, winning 50 games and back-to-back Virginia state championships.Malone signed a letter of intent to play college basketball for the University of Maryland under head coach Lefty Driesell.


---