Don Shula
American football coach and player
Died when: 90 years 121 days (1084 months)
Star Sign: Capricorn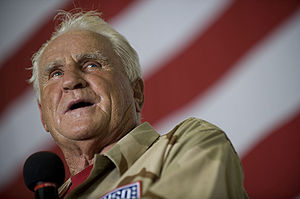 Donald Francis Shula (January 4, 1930 – May 4, 2020) was an American football defensive back and coach who served as a head coach in the National Football League (NFL) from 1963 to 1995.

The head coach of the Miami Dolphins for most of his career, Shula is the NFL's winningest head coach, compiling 347 career victories and 328 regular-season victories.

He held his first head coaching position with the Baltimore Colts, whom he led for seven seasons, and spent his next 26 seasons with Miami.

Shula had only two losing seasons during his 33 years as a head coach and led the Dolphins to two consecutive Super Bowl titles in Super Bowl VII and Super Bowl VIII.

His first Super Bowl title during 1972 is the only perfect season in NFL history.Shula was the first head coach to appear in six Super Bowls, five with the Dolphins and one with the Colts.

His six Super Bowl appearances rank second among head coaches and he has the most Super Bowl losses at four.

He was also the first head coach to bring two franchises to the Super Bowl and appear in three consecutive Super Bowls, which he accomplished with the Dolphins from 1971 to 1973.

Having guided Baltimore to Super Bowl III and Miami to Super Bowl VI, Shula is the only head coach to lead two franchises to their Super Bowl debut.

He was inducted into the Pro Football Hall of Fame in 1997.


---