Gale Sayers
American football player
Died when: 77 years 116 days (927 months)
Star Sign: Gemini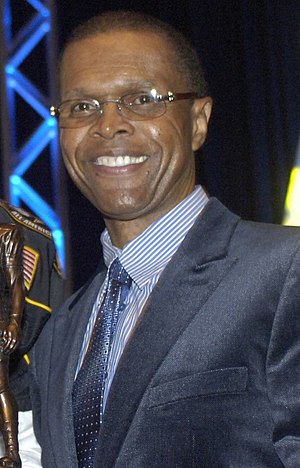 Gale Eugene Sayers (May 30, 1943 – September 23, 2020) was an American professional football player who was both a halfback and return specialist in the National Football League (NFL).

In a relatively brief but highly productive NFL career, Sayers spent seven seasons with the Chicago Bears from 1965 to 1971, though multiple injuries effectively limited him to five seasons of play.

He was known for his elusiveness and agility and was regarded by his peers as one of the most difficult players to tackle.

Nicknamed the "Kansas Comet", Sayers played college football for the Kansas Jayhawks football team of the University of Kansas, where he compiled 4,020 all-purpose yards over three seasons and was twice recognized as a consensus All-American.

In Sayers' rookie NFL season, he set a league record by scoring 22 touchdowns—including a record-tying six in one game—and gained 2,272 all-purpose yards en route to being named the NFL's Rookie of the Year.

He continued this production through his first five seasons, earning four Pro Bowl appearances and five first-team All-Pro selections.A right knee injury forced Sayers to miss the final five games of the 1968 season, but he returned in 1969 to lead the NFL in rushing yards and be named the NFL Comeback Player of the Year.

An injury to his left knee in the 1970 preseason as well as subsequent injuries kept him sidelined for most of his final two seasons.

His friendship with Bears teammate Brian Piccolo, who died of cancer in 1970, inspired Sayers to write his autobiography, I Am Third, which in turn was the basis for the 1971 made-for-TV movie Brian's Song.

Sayers was inducted into the Pro Football Hall of Fame in 1977 at age 34 and remains the youngest person to have received the honor.

He is one of four players in the Super Bowl era to be enshrined in the Hall of Fame without ever playing a postseason game.

He was named to the NFL's 75th Anniversary Team as a halfback and kick returner, the only player to occupy two positions on the team.

In 2019, he was named to the NFL 100th Anniversary All-Time Team.For his achievements in college, Sayers was inducted into the College Football Hall of Fame the same year.

His jersey number is retired by both the Bears and the University of Kansas.Following his NFL career, Sayers began a career in sports administration and business and served as the athletic director of Southern Illinois University from 1976 to 1981.


---