Tapan Sinha
Indian film director
Died when: 84 years 105 days (1011 months)
Star Sign: Libra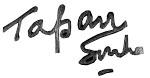 Tapan Sinha (2 October 1924 – 15 January 2009) was one of the most prominent Indian film directors of his time forming a legendary quartet with Satyajit Ray, Ritwik Ghatak and Mrinal Sen.

He was primarily a Bengali filmmaker who worked both in Hindi cinema and Bengali cinema, directing films like Kabuliwala (1957), Louha-Kapat, Sagina Mahato (1970), Apanjan (1968), Kshudhita Pashan and children's film Safed Haathi (1978) and Aaj Ka Robinhood.

Sinha started his career in 1946, as a sound engineer with New Theatres film production house in Kolkata, then in 1950 left for England where he worked at Pinewood Studios for next two years, before returning home to start his six decade long career in Indian cinema, making films in Bengali, Hindi and Oriya languages, straddling genres from social realism, family drama, labor rights, to children's fantasy films.

He was one of the acclaimed filmmakers of Parallel Cinema movement of India.


---