Isabel Sarli
Argentine actress and glamour model
Died when: 83 years 351 days (1007 months)
Star Sign: Cancer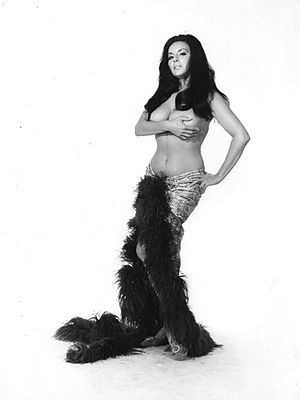 Hilda Isabel Gorrindo Sarli (Spanish pronunciation: [isaˈβel ˈsaɾli]; 9 July 1929 – 25 June 2019), nicknamed Coca, was an Argentine actress and glamour model, known for starring in several sexploitation films by Armando Bó, especially in the 1960s and 1970s.

She began her career as a model and beauty queen, becoming Miss Argentina and reaching the semi-finals of Miss Universe 1955.

She was discovered by Bó in 1956 and made her acting debut the following year with Thunder Among the Leaves, in which a controversial nude scene featuring Sarli made it the first film to feature full frontal nudity in Argentine cinema.

As the muse and protagonist of Bó's films, Sarli became the quintessential sex symbol of her country and a popular figure worldwide.

After Bó's death in 1981 Sarli virtually retired from acting until the 1990s, when she appeared in a handful of film roles and TV cameos before her death in 2019.

Since the year 2000 and onwards her films have been revalued for their camp and kitsch content and are recognised as cult classics, while Sarli has established herself as a pop icon.


---