Jay Hammond
Governor of Alaska
Died when: 83 years 12 days (996 months)
Star Sign: Leo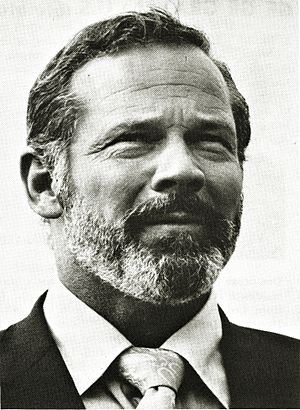 Jay Sterner Hammond (July 21, 1922 – August 2, 2005) was an American politician of the Republican Party, who served as the fourth governor of Alaska from 1974 to 1982.

Hammond was born in Troy, New York and served as a Marine Corps fighter pilot in World War II with the Black Sheep Squadron.

In 1946, he moved to Alaska where he worked as a bush pilot.Hammond served as a state representative from 1959 to 1965 and as a state senator from 1967 to 1973.

From 1972 until 1974 he was the mayor of the Bristol Bay Borough.Then, in 1974, he was elected governor of Alaska.He oversaw the creation of the Alaska Permanent Fund in 1976, which, since the early 1980s, has paid annual dividends to Alaska residents.

He advocated for fiscal responsibility.When his tenure as governor was over, he continued to be active in public life.

He advocated for environmentally and fiscally responsible government and individual civic responsibility.From 1985 to 1992 he hosted a television series called Jay Hammond's Alaska.

He wrote three autobiographies.


---