Steve McQueen
American actor
Died when: 50 years 228 days (607 months)
Star Sign: Aries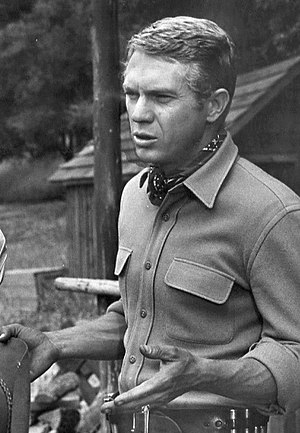 Terrence Stephen McQueen (March 24, 1930 – November 7, 1980) was an American actor.His antihero persona, emphasized during the height of the counterculture of the 1960s, made him a top box-office draw for his films of the late 1950s, 1960s, and 1970s.

He was nicknamed the "King of Cool" and used the alias Harvey Mushman in motor races.McQueen received an Academy Award nomination for his role in The Sand Pebbles (1966).

His other popular films include Love With the Proper Stranger (1963), The Cincinnati Kid (1965), Nevada Smith (1966), The Thomas Crown Affair (1968), Bullitt (1968), Le Mans (1971), The Getaway (1972), and Papillon (1973).

In addition, he starred in the all-star ensemble films The Magnificent Seven (1960), The Great Escape (1963), and The Towering Inferno (1974).In 1974, McQueen became the highest-paid movie star in the world, although he did not act in film for another four years.

He was combative with directors and producers, but his popularity placed him in high demand and enabled him to command the largest salaries.


---