Ji Chaozhu
Chinese diplomat
Died when: 90 years 274 days (1088 months)
Star Sign: Leo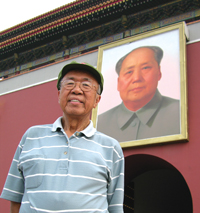 Ji Chaozhu (July 30, 1929 – April 29, 2020) was a Chinese diplomat who held a number of important positions in the Ministry of Foreign Affairs of the People's Republic of China (PRC), most notably as English interpreter for Chairman Mao Zedong, Premier Zhou Enlai and Deng Xiaoping; later as Ambassador to the Court of St.

James's (United Kingdom); and lastly as an Under-secretary General of the United Nations, a post from which he retired in 1996.

He played a central role in the talks leading up to and during President Richard M.Nixon's historic 1972 visit to China.

His memoir, The Man on Mao's Right, was published in July 2008, by Random House.


---