Stanley Donen
American film director
Died when: 94 years 314 days (1138 months)
Star Sign: Aries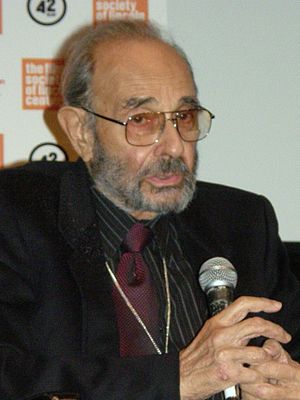 Stanley Donen (/ˈdɒnən/ DON-ən;April 13, 1924 – February 21, 2019) was an American film director and choreographer whose most celebrated works are On the Town, (1949) and Singin' in the Rain (1952), both of which he co-directed with Gene Kelly.

His other films include Royal Wedding (1951), Seven Brides for Seven Brothers (1954), It's Always Fair Weather (1955), Funny Face (1957), Indiscreet (1958), and Charade (1963).

Donen began his career in the chorus line on Broadway for director George Abbott, where he befriended Kelly.From 1943, he worked in Hollywood as a choreographer before collaborating with Kelly.

After On the Town, Donen worked as a contract director for MGM under producer Arthur Freed producing critically well-received box-office hits.

Donen and Kelly co-directed the musical Singin' in the Rain, released in April 1952, which has appeared on lists of the best films ever made.

Donen's relationship with Kelly deteriorated during their final collaboration It's Always Fair Weather (1955).He then broke his contract with MGM to become an independent producer in 1957.

He continued making films throughout the 1950s, 1960s, and 1970s that were often financial successes that gained positive attention.His film output became less frequent in the early 1980s, and he briefly returned to the stage as a director in the 1990s and again in 2002.

Donen is credited with having made the transition of Hollywood musical films from realistic backstage dramas to a more integrated art form in which the songs were a natural continuation of the story.

Before Donen and Kelly made their films, musicals – such as the extravagant and stylized work of Busby Berkeley – were often set in a Broadway stage environment where the musical numbers were part of a stage show.

Donen and Kelly's films created a more cinematic form and included dances that could only be achieved in the film medium.

Donen stated that what he was doing was a "direct continuation from the Astaire – Rogers musicals ... which in turn came from René Clair and from Lubitsch ...

What we did was not geared towards realism but towards the unreal." Donen is highly respected by film historians, but his career is often compared to Kelly's, and there is debate over who deserves more credit for their collaborations.

Their relationship was complicated, both professionally and personally, but Donen's films as a solo director are generally better regarded by critics than Kelly's.

French film critic Jean-Pierre Coursodon has said that Donen's contribution to the evolution of the Hollywood musical "outshines anybody else's, including Vincente Minnelli's".

David Quinlan called him "the King of the Hollywood musicals".In 1998, Martin Scorsese presented one with the Honorary Academy Award at the 70th Academy Awards.

Other honorary awards include the Career Golden Lion from the Venice Film Festival in 2004.Donen married five times and had three children.

Film director and comedian Elaine May was his partner from 1999 until his death in 2019.He was the last surviving notable director of Hollywood's Golden Age.


---