John Young
American astronaut
Died when: 87 years 103 days (1047 months)
Star Sign: Libra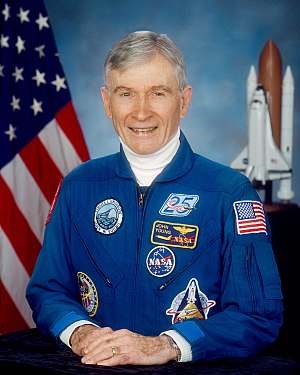 John Watts Young (September 24, 1930 – January 5, 2018) was an American astronaut, naval officer and aviator, test pilot, and aeronautical engineer.He became the ninth person to walk on the Moon as commander of the Apollo 16 mission in 1972.

He flew on four different classes of spacecraft: Gemini, the Apollo command and service module, the Apollo Lunar Module, and the Space Shuttle.

Before becoming an astronaut, Young received his Bachelor of Science degree in Aeronautical Engineering from the Georgia Institute of Technology and joined the U.S.

Navy.After serving at sea during the Korean War he became a naval aviator, and graduated from the U.S.

Naval Test Pilot School.As a test pilot, he set several world time-to-climb records.Young retired from the Navy in 1976 with the rank of captain.

In 1962, Young was selected as a member of NASA Astronaut Group 2.He flew on the first crewed Gemini mission in 1965, and then commanded the 1966 Gemini 10 mission.

In 1969, he flew as the command module pilot on Apollo 10.After that, he commanded Apollo 16, and spent three days on the lunar surface exploring the Descartes Highlands with Charles Duke.

Young also commanded STS-1 in 1981, the Space Shuttle program's first launch, and STS-9 in 1983, both of which were on Columbia.

Young served as Chief of the Astronaut Office from 1974 to 1987, and retired from NASA in 2004.He died in 2018 at the age of 87.


---