Maya Plisetskaya
Russian ballet dancer
Died when: 89 years 163 days (1073 months)
Star Sign: Scorpio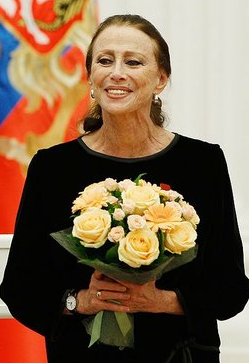 Maya Mikhailovna Plisetskaya (Russian: Майя Михайловна Плисецкая; 20 November 1925 – 2 May 2015) was a Soviet and Russian ballet dancer, choreographer, ballet director, and actress.

In post-Soviet times, she held both Lithuanian and Spanish citizenship.She danced during the Soviet era at the Bolshoi Theatre under the directorships of Leonid Lavrovsky, then of Yury Grigorovich; later she moved into direct confrontation with him.

In 1960, when famed Russian ballerina Galina Ulanova retired, Plisetskaya became prima ballerina assoluta of the company.Her early years were marked by political repression and loss.

Her father, Mikhail Plisetski, a Soviet official, was arrested in 1937 and executed in 1938, during the Great Purge.Her mother, actress Rachel Messerer, was arrested in 1938 and imprisoned for a few years, then held in a concentration camp together with her infant son, .

The older children were faced with the threat of being put in an orphanage but were cared for by maternal relatives.

Maya was adopted by their aunt Sulamith Messerer, and Alexander was taken into the family of their uncle Asaf Messerer; both Alexander and Azary eventually became solo dancers of the Bolshoi.

Plisetskaya studied ballet at The Bolshoi Ballet School from age nine, and she first performed at the Bolshoi Theatre when she was eleven.

She studied ballet under the direction of Elizaveta Gerdt and also her aunt, Sulamith Messerer.Graduating in 1943 at the age of eighteen, she joined the Bolshoi Ballet company, quickly rising to become their leading soloist.

In 1959, during the Thaw Time, she started to tour outside the country with the Bolshoi, then on her own.Her fame as a national ballerina was used to project the Soviet Union's achievements during the Cold War.

Premier Nikita Khrushchev considered her to be "not only the best ballerina in the Soviet Union, but the best in the world".

As an artist, Plisetskaya had an inexhaustible interest in new roles and dance styles, and she liked to experiment on stage.

As a member of the Bolshoi until 1990, she had international exposure and her skills as a dancer changed the world of ballet.

She set a higher standard for ballerinas, both in terms of technical brilliance and dramatic presence.As a soloist, Plisetskaya created a number of leading roles, including Juliet in Lavrovsky's Romeo and Juliet;

Phrygia in Yakobson's Spartacus (1958); in Grigorovich's ballets : Mistress of the Copper Mountain in The Stone Flower (1959);Aurora in The Sleeping Beauty (1963);

Mahmene Banu in (1965);Alberto Alonso's Carmen Suite (1967), choreographed especially for her; and Maurice Bejart's Isadora (1976).Among her most acclaimed roles were Kitri in Don Quixote, Odette-Odile in Swan Lake, and The Dying Swan, first danced as a pre-graduate student under the guidance of Sulamith Messerer.

A fellow dancer said that her dramatic portrayal of Carmen, reportedly her favorite role, "helped confirm her as a legend, and the ballet soon took its place as a landmark in the Bolshoi repertoire".

Her husband, composer Rodion Shchedrin, wrote the scores to a number of her ballets.Having become "an international superstar" and a continuous "box office hit throughout the world", Plisetskaya was treated by the Soviet Union as a favored cultural emissary.

Although she toured extensively during the same years that other prominent dancers defected, including Rudolf Nureyev, Natalia Makarova, and Mikhail Baryshnikov, Plisetskaya always refused to defect.

In 1991, she published her autobiography, I, Maya Plisetskaya.


---