Fanny Blankers-Koen
Athletics (sport) competitor
Died when: 85 years 274 days (1028 months)
Star Sign: Taurus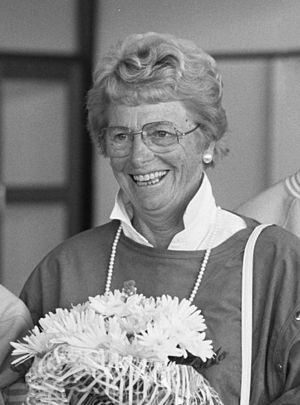 Francina "Fanny" Elsje Blankers-Koen (26 April 1918 – 25 January 2004) was a Dutch track and field athlete, best known for winning four gold medals at the 1948 Summer Olympics in London.

She competed there as a 30-year-old mother of two, earning her the nickname "the flying housewife", and was the most successful athlete at the event.

Having started competing in athletics in 1935, she took part in the 1936 Summer Olympics a year later.Although international competition was stopped by World War II, Blankers-Koen set several world records during that period, in events as diverse as the long jump, the high jump, and sprint and hurdling events.

Apart from her four Olympic titles, she won five European titles and 58 Dutch championships, and set or tied 12 world records – the last, pentathlon, in 1951 aged 33.

She retired from athletics in 1955, after which she became captain of the Dutch female track and field team.In 1999, she was voted "Female Athlete of the Century" by the International Association of Athletics Federations (IAAF).

Her Olympic victories are credited with helping to eliminate the belief that age and motherhood were barriers to success in women's sport.


---