Ken Robinson
British educationalist
Died when: 70 years 170 days (845 months)
Star Sign: Pisces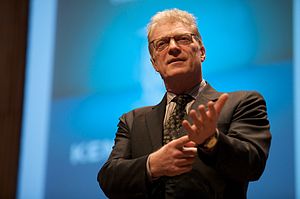 Sir Kenneth Robinson (4 March 1950 – 21 August 2020) was a British author, speaker and international advisor on education in the arts to government, non-profits, education and arts bodies.

He was Director of the Arts in Schools Project (1985–89) and Professor of Arts Education at the University of Warwick (1989–2001), and was named Professor Emeritus after leaving the university.

In 2003 he was knighted for services to the arts.Originally from a working class Liverpool family, Robinson later lived in Los Angeles with his wife and children.


---