Gyude Bryant
Liberian politician
Died when: 65 years 89 days (782 months)
Star Sign: Capricorn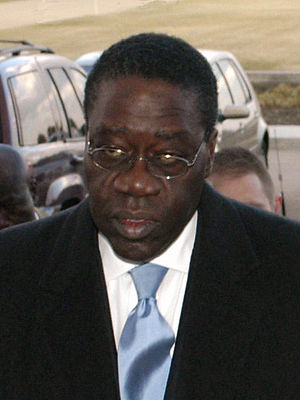 Charles Gyude Bryant (17 January 1949 – 16 April 2014) was a Liberian politician and businessman.He served as the Chairman of the Transitional Government of Liberia from 14 October 2003 to 16 January 2006.

The installation of the transitional government was part of the peace agreement to end the country's second civil war, which had raged since the Liberians United for Reconciliation and Democracy (LURD) rebelled against President Charles Taylor in 1999.

Bryant was previously a businessman and was chosen as chairman because he was seen as politically neutral and therefore acceptable to each of the warring factions, which included LURD, the Movement for Democracy in Liberia (MODEL), and loyalists of former President Taylor.

He was a prominent member of the , and was critical of the governments of Samuel Doe (1980–90) and Taylor (1997–2003).

Ellen Johnson Sirleaf won the 2005 elections and took office in January 2006, succeeding Bryant.He died on 16 April 2014 at the John F.

Kennedy Medical Center in Monrovia.


---