Bob Gibson
American baseball pitcher
Died when: 84 years 328 days (1018 months)
Star Sign: Scorpio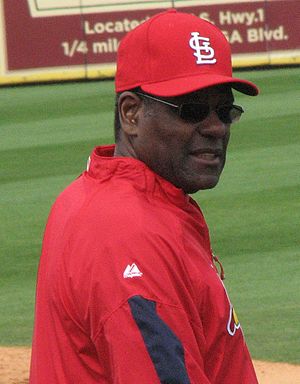 Robert Gibson (born Pack Robert Gibson;November 9, 1935 – October 2, 2020) was an American professional baseball pitcher who played 17 seasons in Major League Baseball (MLB) for the St.

Louis Cardinals (1959–1975).Nicknamed "Gibby" and "Hoot" (after actor Hoot Gibson), Gibson tallied 251 wins, 3,117 strikeouts, and a 2.91 earned run average (ERA) during his career.

A nine-time All-Star and two-time World Series champion, he won two Cy Young Awards and the 1968 National League (NL) Most Valuable Player (MVP) Award.

Known for a fiercely competitive nature and for intimidating opposing batters, he was elected in 1981 to the Baseball Hall of Fame in his first year of eligibility.

The Cardinals retired his uniform number 45 in September 1975 and inducted him into the team Hall of Fame in 2014.Born in Omaha, Nebraska, Gibson overcame childhood illness to excel in youth sports, particularly basketball and baseball.

After briefly playing under contract to both the Harlem Globetrotters basketball team and the St.Louis Cardinals organization, Gibson decided to continue playing only baseball professionally.

He became a full-time starting pitcher in July 1961 and earned his first All-Star appearance in 1962.Gibson won 2 of 3 games he pitched in the 1964 World Series, then won 20 games in a season for the first time in 1965.

Gibson also pitched three complete game victories in the 1967 World Series.The pinnacle of Gibson's career was 1968, when he posted a 1.12 ERA for the season and then recorded 17 strikeouts in Game 1 of the 1968 World Series.

Gibson threw a no-hitter in 1971 but began experiencing swelling in his knee in subsequent seasons.At the time of his retirement in 1975, Gibson ranked second only to Walter Johnson among major-league pitchers in career strikeouts.

After retiring as a player in 1975, Gibson later served as pitching coach for his former teammate Joe Torre.At one time a special instructor coach for the St.

Louis Cardinals, Gibson was later selected for the Major League Baseball All-Century Team in 1999.Gibson was the author of the memoir Pitch by Pitch, with Lonnie Wheeler.

Gibson died of pancreatic cancer on October 2, 2020, exactly 52 years after his memorable 1968 World Series Game 1 performance in which he struck out 17 Detroit Tigers.


---