Whitey Ford
American baseball pitcher
Died when: 91 years 353 days (1103 months)
Star Sign: Scorpio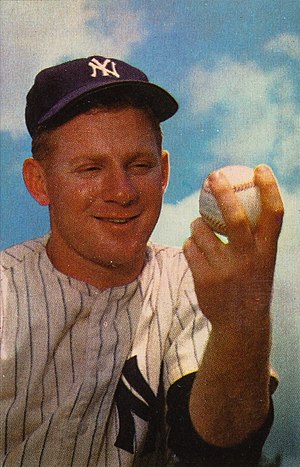 Edward Charles "Whitey" Ford (October 21, 1928 – October 8, 2020), nicknamed "The Chairman of the Board", was an American professional baseball pitcher who played his entire 16-year Major League Baseball (MLB) career with the New York Yankees.

He was a 10-time All-Star and 6-time World Series champion.In 1961, he won both the Cy Young Award and World Series Most Valuable Player Award.

Ford led the American League (AL) in wins three times and in earned run average (ERA) twice.He is the Yankees franchise leader in career wins (236), shutouts (45), innings pitched (3,170+1⁄3), and games started by a pitcher (438; tied with Andy Pettitte).

Ford was inducted into the Baseball Hall of Fame in 1974.Ford signed with the Yankees as an amateur free agent in 1947 and made his major league debut in 1950.

Following a two-year sojourn to serve in the United States Army during the Korean War, Ford returned to the Yankees in 1953 and pitched for them until retiring in 1967.

During his tenure with the team, Ford set numerous World Series pitching records, including consecutive scoreless innings (33+2⁄3), wins (10), games started (22), innings pitched (146), and strikeouts (94).

The Yankees retired his uniform number 16 in 1974 and dedicated a plaque in his honor in Monument Park in 1987.Ford served as the Yankees pitching coach in 1964 while still a player and from 1974 to 1975 after retiring.

He also served as the team's first base coach in 1968.In the wake of Yogi Berra's death in 2015, George Vecsey of The New York Times suggested that Ford was now "The Greatest Living Yankee".

Ford died on October 8, 2020, at the age of 91.


---