Yokozuna (wrestler)
American wrestler
Died when: 34 years 21 days (408 months)
Star Sign: Libra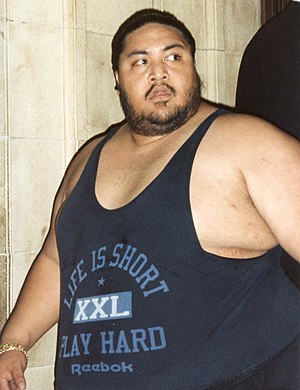 Agatupu Rodney Anoaʻi (October 2, 1966 – October 23, 2000) was an American professional wrestler.He was best known for his time with the World Wrestling Federation (WWF), where he wrestled under the ring name Yokozuna, a reference to the highest rank in professional sumo wrestling in Japan.

He was a two-time world champion.Although the Yokozuna character was portrayed as a champion sumo wrestler, Anoaʻi never competed as an actual sumotori.

Though he wrestled as a representative of Japan, in real life he was a Samoan American and was accordingly billed as hailing from Polynesia.

However, he was managed by the Japanese character Mr.Fuji (in reality a Japanese American) who would follow Anoaʻi to the ring with a wooden bucket of salt while waving a Japanese flag.

In the WWF, Anoaʻi was a two-time WWF World Heavyweight Champion and two-time WWF Tag Team Champion (with Owen Hart), as well as the winner of the 1993 Royal Rumble.

He was the first wrestler of Samoan descent to hold the WWF World Heavyweight Championship, as well as the first Royal Rumble winner who (as a result of a direct stipulation) received a WWF world championship title shot at WrestleMania.

He defeated WWE Hall of Famers Bret Hart and Hulk Hogan, in consecutive pay-per-view victories in the main event of WrestleMania IX and the 1993 King of the Ring, to win his two WWF World Heavyweight Championships, and also headlined WrestleMania X against Hart.

He was the third-fastest newcomer (after Brock Lesnar and Sheamus) to win the WWF/E Championship after his debut.He was posthumously inducted into the WWE Hall of Fame in 2012.


---