Zena Dare
British actor and singer
Died when: 88 years 35 days (1057 months)
Star Sign: Aquarius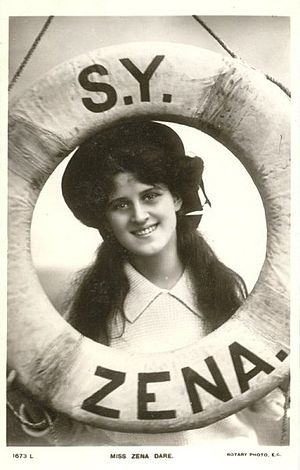 Zena Dare (born Florence Hariette Zena Dones; 4 February 1887 – 11 March 1975) was an English singer and actress who was famous for her performances in Edwardian musical comedy and other musical theatre and comedic plays in the first half of the 20th century.

In a career spanning more than six decades, Dare made her first appearance on stage in 1899, in the Christmas pantomime Babes in the Wood in London, where she performed under her real name Florence Dones.

She starred alongside her sister Phyllis in the production, and they both adopted the stage name of Dare soon afterwards.

In the first decade of the 1900s, she starred in pantomimes and various Edwardian musical comedy productions including An English Daisy, Sergeant Brue and The Catch of the Season, as well as the title roles in Lady Madcap and The Girl on Stage.

She retired in 1911 and nursed soldiers in France during World War I.Dare returned to the stage in 1926 where she played the title role in The Last of Mrs.

Cheyney.This was followed with a role in The Second Man alongside Noël Coward.In 1928, she formed her own production company and, a year later, took over the management of the Haymarket Theatre.

On stage, she starred in The First Mrs.Fraser, Other Men's Wives and Cynara, and she appeared in pantomime at the London Palladium.

Late in her career, she had a big success as Mrs.Higgins in the long-running original London production of My Fair Lady.

In addition to her stage roles, Dare occasionally appeared in film and made her debut in the silent film No. 5 John Street in 1921.

She made a successful transition to "talkies" appearing in The Return of Carol Deane in 1938 and Over the Moon a year later.

She died in London in 1975 at the age of 88.


---