Bobby Dillon
American footballer
Died when: 89 years 180 days (1073 months)
Star Sign: Pisces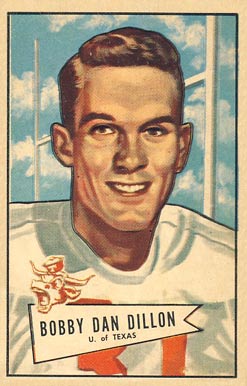 Bobby Dan Dillon (February 23, 1930 – August 22, 2019) was an American professional football player in the National Football League (NFL).He played as a safety and spent his entire eight-year career with the Green Bay Packers.

Dillon was an All-American with the University of Texas Longhorns.Although he was a safety, he also returned kicks and played several games at halfback.

He finished his college career with 13 interceptions on defense, one touchdown as a halfback, and multiple kick returns for touchdowns.

He was drafted by the Green Bay Packers in the 3rd round (28th pick) of the 1952 NFL draft.After multiple accidents during his childhood, Dillon lost one of his eyes and played his entire career with a glass eye.

Despite his handicap, he became one of the most successful defensive backs of his era.His 52 career interceptions are still a Packers' franchise record.

He was a four-time Associated Press All-Pro and four-time Pro Bowler.He intended to retire at the end of the 1958 season, but the Packers' new head coach, Vince Lombardi, convinced him to return for the 1959 season.

After an injury halfway through the season, he lost his starting job and retired.The 1959 season was the only year during Dillon's tenure that the Packers had a winning record.

In recognition of his football achievements, Dillon was elected to the Green Bay Packers Hall of Fame in 1974 and the Texas Sports Hall of Fame in 1996.

After his football career, Dillon earned a bachelor's degree and worked for Wilsonart for 36 years, eventually becoming president and chief executive.

He died on August 22, 2019, at the age of 89, after complications from dementia.Five months after his death, he was elected to the Pro Football Hall of Fame as part of the NFL's centennial class, with the formal induction ceremony planned for August 2020.


---