Jim Taylor
American footballer
Died when: 83 years 23 days (996 months)
Star Sign: Virgo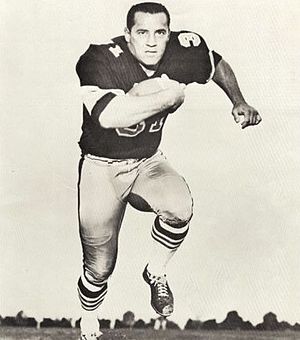 James Charles Taylor (born September 20, 1935) is a former American football fullback who played professionally in the National Football League (NFL) for ten seasons, with the Green Bay Packers from 1958 to 1966 and with the expansion New Orleans Saints in 1967.

With the Packers, Taylor was invited to five straight Pro Bowls and won four NFL championships, as well as a victory in the first Super Bowl.

He was recognized as the NFL Most Valuable Player after winning the rushing title in 1962, the only season in which Jim Brown did not lead the league in rushing yards during his career.

An aggressive player and fluent trash talker, Taylor developed several personal rivalries throughout his career, most notably with New York Giants linebacker Sam Huff.

This confrontational attitude, combined with his tenacious running style, a penchant for contact, and ability to both withstand and deliver blows, earned him a reputation as one of the league's toughest players.Playing college football for Louisiana State University (LSU), Taylor led the Southeastern Conference (SEC) in scoring in 1956 and 1957 and earned first-team All-America honors as a senior.

He was selected by the Packers in the second round of the 1958 NFL Draft and was used sparingly as a rookie, but with the arrival of coach Vince Lombardi in 1959 Taylor soon became the team's all-purpose back, especially when only a few yards were needed.

In this role, his spirited performance against the Giants in the 1962 NFL Championship Game came to define his mental and physical toughness.Taylor finished his career after carrying 1,941 times for 8,597 yards and 83 touchdowns.

He was the first player to record five straight seasons of at least 1,000 rushing yards.His 81 rushing touchdowns for the Packers remains a franchise record by a wide margin, and his 8,207 rushing yards with the team has been surpassed only once.

Taylor was inducted into the Pro Football Hall of Fame in 1976.He is a member of the Green Bay Packers Hall of Fame and his number 31 jersey is retired by the Saints.


---