Danny Havoc
American wrestler
Died when: 34 years 12 days (408 months)
Star Sign: Taurus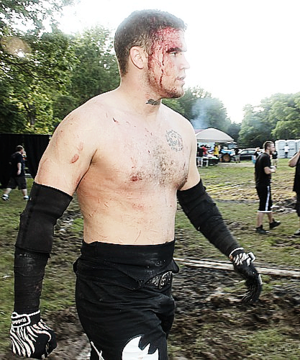 Grant Amos Berkland (May 19, 1986 – May 31, 2020), better known by his ring name Danny Havoc, was an American professional wrestler.He was best known for his work in Combat Zone Wrestling (CZW), and was noted for mixing his technical style with hardcore wrestling.

In CZW, he was a two-time World Tag Team Champion (with Devon Moore and Lucky 13), two-time Ultraviolent Underground Champion, a one-time World Junior Heavyweight Champion and won Tournament of Death on two occasions.

He announced his retirement at Tournament of Death 16, and wrestled his final match on September 9, 2017, which was covered on an episode of The Wrestlers.

He also wrestled for Game Changer Wrestling (GCW), Westside Xtreme Wrestling (wXw), Big Japan Pro Wrestling (BJW), IWA Mid-South, IWA East Coast, and IWA Deep-South.

Two years after his final match, Havoc came out of retirement for a benefit show hosted by Matt Tremont's H2O Wrestling, and returned to Game Changer Wrestling for their Tokyo tour in February 2020.


---