Jeffrey Dahmer
American serial killer
Died when: 34 years 191 days (414 months)
Star Sign: Gemini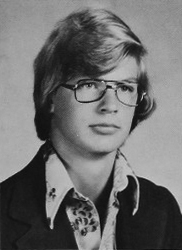 Jeffrey Lionel Dahmer (;May 21, 1960 – November 28, 1994), sometimes nicknamed "The Milwaukee Cannibal", was an American necrophilic, ephebophilic, hebephilic, and cannibalistic serial killer, serial rapist, and poisoner.

Many of his later murders involved necrophilia, cannibalism, and the permanent preservation of body parts—typically all or part of the skeleton.

Although he was diagnosed with borderline personality disorder, schizotypal personality disorder, and a psychotic disorder, Dahmer was found to be legally sane at his trial.

He was convicted of 15 of the 16 murders he had committed in Wisconsin, and was sentenced to 15 terms of life imprisonment on February 17, 1992.

Dahmer was later sentenced to a 16th term of life imprisonment for an additional homicide committed in Ohio in 1978.On November 28, 1994, Dahmer was beaten to death by Christopher Scarver, a fellow inmate at the Columbia Correctional Institution in Portage, Wisconsin.


---