Tom Seaver
American baseball player
Died when: 75 years 288 days (909 months)
Star Sign: Scorpio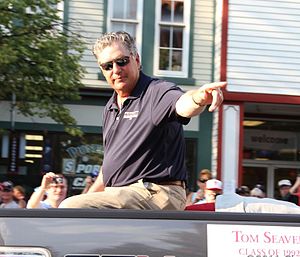 George Thomas Seaver (November 17, 1944 – August 31, 2020), nicknamed "Tom Terrific" and "the Franchise", was an American professional baseball pitcher who played 20 seasons in Major League Baseball (MLB).

He played for the New York Mets, Cincinnati Reds, Chicago White Sox, and Boston Red Sox from 1967 to 1986.A longtime Met, Seaver played a significant role in their victory in the 1969 World Series over the Baltimore Orioles.

With the Mets, Seaver won the National League's (NL) Rookie of the Year Award in 1967, and won three NL Cy Young Awards as the league's best pitcher.

He was a 12-time All-Star and ranks as the Mets' all-time leader in wins.During his MLB career, he compiled 311 wins, 3,640 strikeouts, 61 shutouts, and a 2.86 earned run average, and he threw a no-hitter in 1978.

In 1992, Seaver was inducted into the Baseball Hall of Fame by the highest percentage of votes ever recorded at the time.

Along with Mike Piazza, he is one of two players wearing a New York Mets hat on his plaque in the Hall of Fame.

Seaver's No. 41 was retired by the Mets in 1988, and New York City changed the address of Citi Field to 41 Seaver Way in 2019.

Seaver is also a member of the New York Mets Hall of Fame and the Cincinnati Reds Hall of Fame.


---