George Taliaferro
American footballer
Died when: 91 years 273 days (1101 months)
Star Sign: Capricorn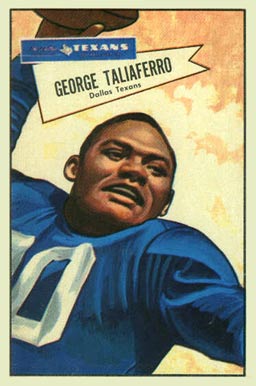 George Taliaferro (January 8, 1927 – October 8, 2018) was a professional American football player who was the first African American drafted by a National Football League (NFL) team.

Beginning his football career at Indiana University for the Hoosiers team, he played in the NFL for the New York Yanks from 1950 to 1951, the Dallas Texans in 1952, the Baltimore Colts from 1953 to 1954, and Philadelphia Eagles in 1955.

Taliaferro was inducted into the College Football Hall of Fame in 1981.


---